Home

Artists

Portfolio

Releases

Contact

Info



MIKE KENEALLY - release: Scambot 1

Long acclaimed as one of the world's most creative and intense guitar players, Mike Keneally's talents as a vocalist, songwriter, arranger, producer and multi-instrumentalist are nearly unequalled in rock music. Keneally has released over 12 albums of his original music since 1992, and has built a body of work of remarkable inventiveness and originality. He's appeared on many Frank Zappa albums, and has also recorded or performed with Robert Fripp, Wayne Kramer, Sting, Kevin Gilbert, Steve Vai, The Loud Family, Henry Kaiser, Michael Manring, Screamin' Jay Hawkins, Andy Prieboy, Mullmuzzler, The Persuasions, the Metropole Orchestra, Jan Akkerman,

Kristjan Jarvi's Absolute Ensemble and many others.

In Europe Mike Keneally performed at the Holland Festival (Netherlands), Outreach (Austria), the North Sea Jazz Festival (Netherlands), Budapest Autumn Festival (Hungary), Gouveia Art Rock (Portugal), in Paradiso Amsterdam and many other venues and festivals.

availability: please contact pvh music for availability in Europe
www.keneally.com
Radio Keneally

KENEALLY, MINNEMANN, BELLER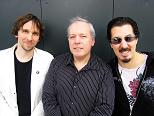 What if the word supergroup wasn't defined by the fame and egos of its members, but by the quality of the music they make? While Mike Keneally, Marco Minnemann and Bryan Beller dare to redefine that misused cliche, they're also happily retooling the expectations of their audience. Multi-instrumentalist, vocalist and composer Mike Keneally has recorded well over a dozen of his own albums and appeared on dozens more by Frank Zappa, Steve Vai, Henry Kaiser, Screamin' Jay Hawkins and many more.

Marco Minnemann

(Nina Hagen, the Buddy Rich Big Band, Necrophagist, Terry Bozzio ao) is looked upon by his peers as one of the most innovative drummers on the international music scene today. Bassist Bryan Beller has been working with Mike Keneally for 12 years, but he also found time to work and tour with luminaries like Z, Steve Vai and Wayne Kramer, has released two lauded solo albums, and is a Contributing Editor for Bass Player magazine.

view & listen here
website KMB

SINAS

Sinas is the ultimate live band. The 8-piece formation came into existence after a jam session organized by saxophone player and composer Wouter Schueler (also New Cool Collective, Alain Clark, Raise The Roof) in 2006. The music of Sinas is based on instrumental multi-ethnical jazz dance, best described as global dancefloor music.
On the debut album Global Explorations Sinas is exploring musical styles such as afro beat, reggae, Arabic, ska, ragaton, jazz, funk and rock. The rhythm section of drummer Joost Kroon (also Kane, Candy Dulfer) and bassist Hassie Dune is complemented by percussionists Jos de Haas and Frank van Dok (also New Cool Collective). Their irresistible grooves are a perfect foundation for the melodies and improvisations of guitarist Jan Wouter Oostenrijk, saxophone player Wouter Schueler and Rob van de Wouw on trumpet.

view Sinas live
website Sinas
Concert bookings Sinas: www.fortheroad.nl





Web site and all contents

© Copyright PVH Music 2008, All rights reserved.